1. Mechanical Clock with Snapping Lion's Heads
This clock was built with the motif of "Houryou Kagura", a folk dance that prays for good health and fortune. Dancers wear costumes with wooden lion's heads, and during the dance they snap the jaws of the lion's head at the same time in a particular syncopated rhythm. Every hour the lion's heads at hacchi snap their jaws, and inform visitors of the time.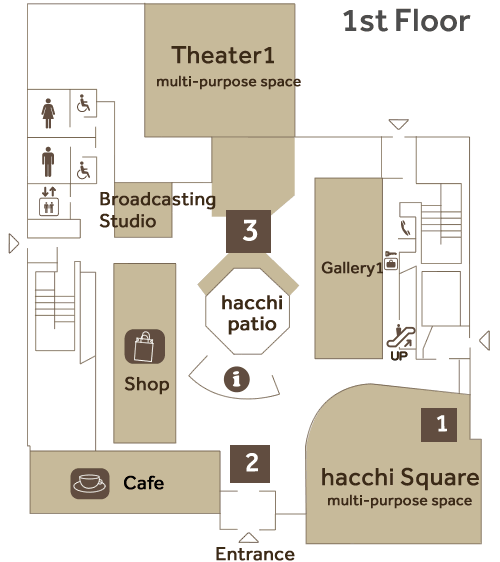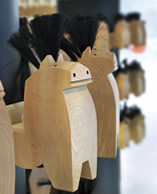 2.Yawata-uma
Historically, the Hachinohe area was a famous horse breeding area. It is said that the first "Yawata-uma" was made about 700 years ago, and is the oldest type of traditional toy in this area.
3. Tanesashi Booth
The Tanesashi Coastline has a rough and jagged shape that is particular to the rias coastline. It also has sand beaches and natural grass lawns. This abundant variety of scenery makes the Tanesashi Coastline into the perfect scenic spot. There is also a walking trail called the "flower shore". Visitors that walk along the trail greatly enjoy the large variety of beach and alpine plants to be found along the trail.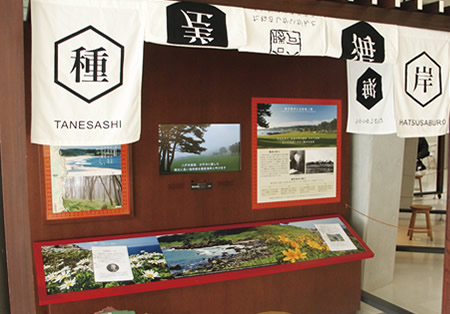 3. Morning Market "Asaichi" and Side Alley "Yokocho" Booth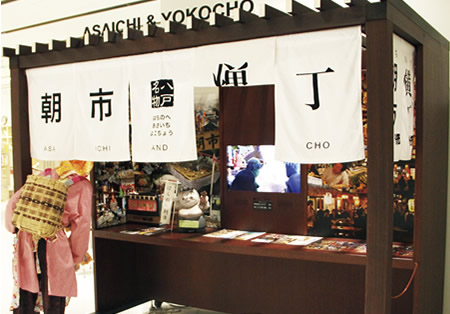 The lively morning markets "asaichi" that are held in several places within Hachinohe city are very well known. The morning markets are overflowing with fresh seafood, vegetables, fruit, side dishes and carefree smiles. Night food stands in side alleys, or "yokocho", give off a nostalgic atmosphere. You can enjoy traditional local food as well as a special hospitality that can only be found at these side alleys.
3. National Treasure Booth
The beautiful clay figure and armor shown in these pictures are the three national treasures that are located in Aomori prefecture. They are all located in Hachinohe, and can be seen in person. The art compositions that you see before you are by current artists and reflect the beauty of Hachinohe.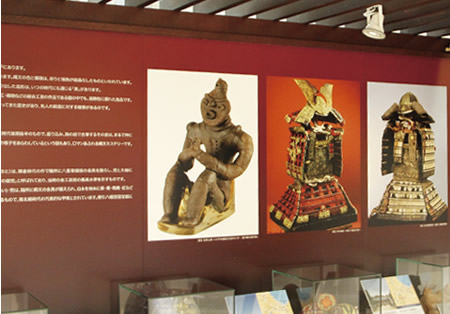 3. Traditional Craft Booth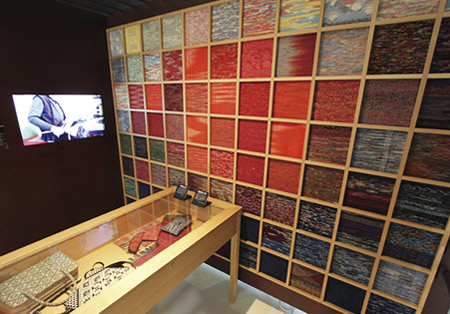 "Nanbu Sakiori" and "Nanbu Hishisashi" are traditional crafts that started during the Edo period (1603 - 1868). They developed during a time when cloth was hard to come by. The wisdom and ingenuity of our ancestors created an art from that continues to be passed on to this day.
3. Kabushima Black -tailed gull Booth
Every year in early spring, the black-tailed gulls fly home to Kabushima. During breeding season in June the island is buried in 40,000 black tern gulls that come to mate and hatch their young. Kabushima is the only place in Japan where you can see black tern gulls raising their young at such a close range. Accordingly it has been designated a natural monument.